FC Storm
Preparing players for tomorrow…
on and off the field.
G09 Premier kicks off High School tournament play by going undefeated
in the Girls Gateway Showcase Tournament
FC Storm Academy
Registration is open for FC Storm Academy, one of the top development programs for U7 and U8 players. Academy teaches, through practices and game experiences, the fundamental soccer skills needed to play select soccer.  Tryouts are not required.  Academy teams are formed by age and gender.  The Academy program is directed by the FC Storm Sr Director of Coaching and the Academy Director.
Celebrating End of Season Tournament Champions
Congratulations to all of the Academy, FC Storm and FCS Premier teams that won their brackets and played in Tournament Championship games at the end of October.  A total of 10 teams took home Finalist or Champion medals.  Special recognition to the Boys 2014 Loveland Orange team that finished as a Champion in each of its fall tournaments.
FC Storm Culture of Serving
100 sets of previous season's FC Storm uniforms are headed to Ghana and Togo to support the Gavi Sports Foundation. Its mission is to  "… provide asistance including uniforms and equipment to children, schools, teams, organizations, and individuals in under-deserved communities and villages where sports are loved but don't have the resources to to get engaged."
Inside FC Storm
Monthly Newsletter with news and information about FC Storm
November 6 to December 15
Academy registration for Spring 2024 Season
High School team training
Showcase Tournaments for High School Teams

Gateway Tournament – G09 Premier & B06/07 Orange
FOSC Winter Classic – B09 Orange, G08/09 Orange & G08 Orange
December 16
USSF 7v7 and 11v11 grassroots coaching license classes at Loveland High School
November 5 to February 28
FCS Premier winter futsal
January 5 to February 28
Winter training for FC Storm teams
Winter training for FCS Premier teams
Looking Ahead
Week of March 4 – Spring training begins for all teams
April 1 – Training moves to outdoor fields
May 15 to 19 –  FCS Premier Tryouts
May 20 to 24 – FC Storm Tryouts
August 5 to 9 – Coaches preseason clinics
August 12 to 16 – Club-wide preseason camp
Indian Hill | Loveland | Milford
Why FC Storm
Where players ….
Become the best player you can be
Develop skills that support success in life
Experience the positive impact of serving others
Have fun
FC Storm offers training and competitive teams for boys and girls U7 to U19 of all skill levels.
The Mission of our dedicated staff of Directors of Coaching, licensed coaches and professional trainers is to inspire and help players reach their highest potential. Teams train at Campuses in Indian Hill, Loveland and Milford under a common mission, values, culture and training framework.  FC Storm uses a Training Curriculum developed in partnership with professional soccer trainers and coaches to guide player development from U7 to U19.  
Want to experience the benefits of FC Storm first hand? Fill out a Player Interest Form to attend a training session with an age appropriate team and/or arrange to speak to one of our Directors of Coaching about how you can discovery your soccer journey with FC Storm.
FC Storm was designed to be different
It provides competitive soccer training in a family friendly environment with a goal of contributing to the development of healthy, happy young people and, one day, adults.  It is player focused, community grounded and family friendly.
It is what club soccer should be!
Keith Koehne, FC Storm HS Coach and Founding Director
The mission, the transparency and the sense of community is astounding.
I am so thrilled to be a part of this club from a coaching perspective.  I played Loveland Club soccer  as a female youth in the late 80s early 90s and have always been proud of it.  Now that my daughter is here and I'm assisting; I couldn't be more proud!
Bridgett Haushalter, FC Storm Coach
Academy
Developmental teams for boys and girls U7 and U8; tryouts not required
FC Storm
Select Soccer for Boys and Girls U9 to U15
FC Storm Trapped 8th Grade
Fall only select soccer teams for U15 players in 8th grade
FCS Premier
More rigorous training and higher level competitive teams U11 through High School
Fall High School
Fall teams for U15 to U19 players not playing on school high school teams
Spring High School
Spring Teams for U15 to U19 High School Players
Academy
FC Storm Academy is a development program for U7 and U8 players interested in improving their soccer skills through more rigorous training than offered in local recreational programs. Academy uses a curriculum specially designed for the U7 and U8 age player. Our professional trainers are selected because they are very good teaching our youngest players. They run practices that are a fun mix of soccer skill training, fun games and small sided soccer games. There are no tryouts to play in the FC Storm Academy program.
The FC Storm Sr. Director of Coaching oversees the Academy program. It runs from March to the middle of May and August to the end of October.
If you would like more information or would like to explore the program further contact FC Storm at [email protected].
Registration now open for Spring 2024 - Click Here
FC Storm
Select Soccer for U9 through High School Players
FC Storm is the select soccer program of the FC Storm Club. Teams are formed during the annual tryouts and composed of players of similar skill levels. All teams are coached by full or partime US Soccer Licensed Coaches who are often assisted by a team of highly qualified professional trainers. FC Storm Directors of Coaching oversee all coaching and traing. U9 and U10 teams train at campuses in Indian Hill, Milford and Loveland. All teams follow the FC Storm training curriculum that defines the foundational technical and tactical skills at each playing age.
FC Storm Trapped 8th Grade Teams (U15)
Fall only select soccer teams for U15 players in 8th grade (trapped 8th graders). Players are selected for the fall team during club-wide tryouts. The FC Storm Director of Coaching for U13 to U15 oversees the program. Teams participate in the Buckeye Premier Youth Soccer League.
FCS Premier
FCS Premier is designed for players seeking the next level in skill development. Players are chosen based on skill level, growth potential, commitment, and physical and mental readiness for more rigorous training. FCS Premier teams are formed beginning at U11 and continue through high school. Teams play in more competitive regional and state leagues.
Premier teams are coached by skilled, licensed coaches, assisted by our professional trainer. The FC Storm Sr. Director of Coaching oversees all of training.
FC Storm High School Program
The FC Storm High School Program is for players U15-U19 who are not playing soccer for their High School, are home schooled or attend a school that does not have a high school soccer program. Boys and Girls teams will be formed. Teams will play matches against high school teams and other high school club teams. The program is designed for serious players who want to continue to develop and refine their soccer skills for their spring club season. Teams will be composed of players from U15 to U19 and be led by professional coaches.
High School
The U15 to U19 program is built around the needs of high school age players who have completed their freshman year to players finishing their senior year. High School teams provide players an opportunity to continue to develop technical and tactical skills coupled with more rigorous game strategy training.
High School teams' training begins in late October to early November. Teams practice outdoors on turf fields until early December before taking a break for the holidays. Practice resumes in early January. High School teams play in or more Showcase Touraments each year.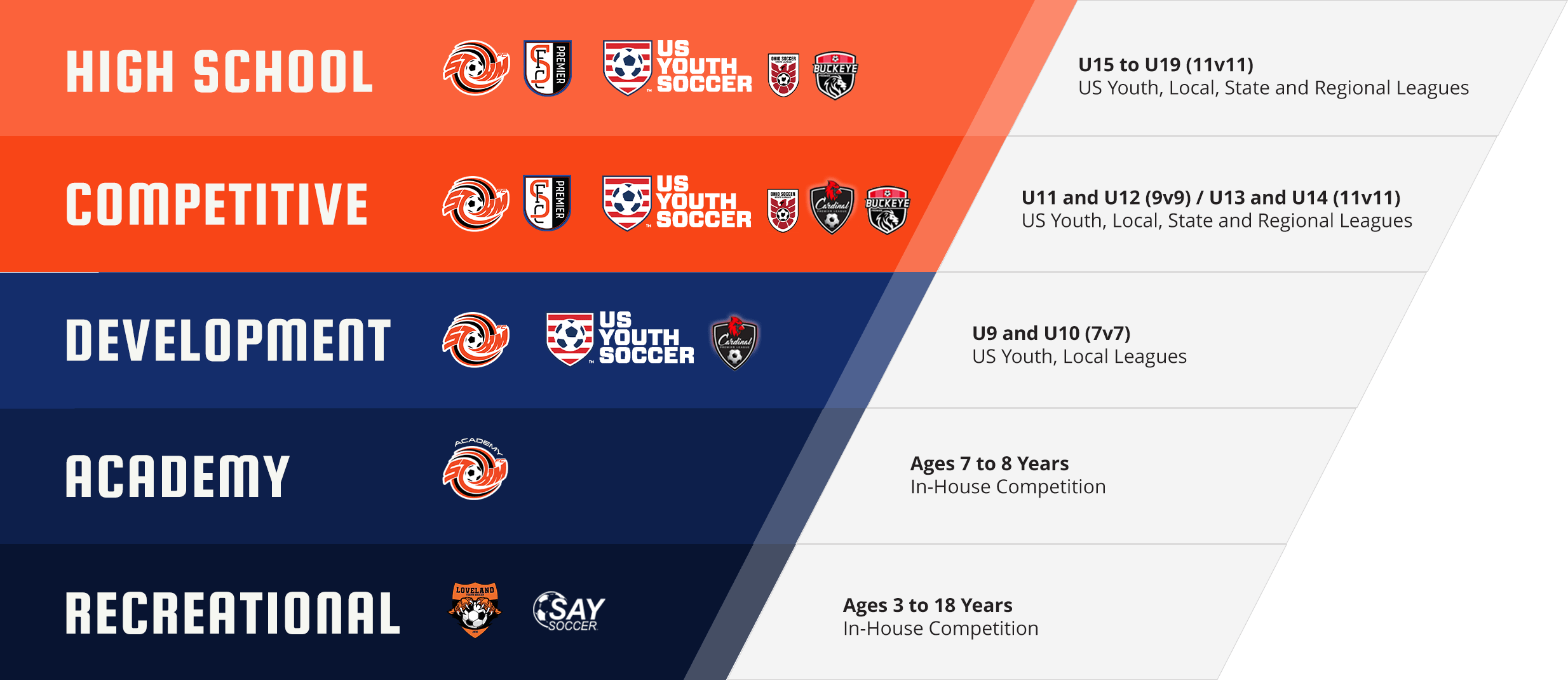 Your tooltip content goes here
Your tooltip content goes here
Discover Your Soccer Journey with FC Storm
Interested in learning more about FC Storm?
Fill out our Player Interest Form here and we'll be in touch with more information.
Or contact Anthony Doherty, Sr Director of Coaching at [email protected]