FC Storm
Preparing our players for tomorrow on and off the field
I am so thrilled to be a part of this club from a coaching perspective.  I played Loveland club as a female youth in the late 80s early 90s and have always been proud of it.  Now that my daughter is here and I'm assisting I couldn't be more proud!
The mission, the transparency and the sense of community is astounding. 
FC Storm Coach Bridgett Haushalter
2023 Party on the Pitch Tournament
Congratulations to all FC Storm and FCS Premier teams that played in the 2023 Party on the Pitch Tournament.  Special recognition to the teams and their coaches who finished first in their division and played in the Tournament Finals.
Indian Hill | Loveland | Milford
FC Storm offers teams and training for boys and girls U7 to U19 of all skill levels directed by US Soccer licensed coaches and professional trainers.
With deep roots in our communities, our dedicated staff work together to help players reach their highest potential by building life skills that contribute to their success within the game and their lives. Our players have fun while making a positive impact through team and club outreach activities.
Teams train at campuses in Indian Hill, Loveland and Milford under a common mission, values, culture and training framework.
Want to experience FC Storm first hand? Fill out our Player Interest Form to attend a training session.
Academy
Developmental Teams for Boys and Girls U7 and U8
FC Storm
Select Soccer for Boys and Girls U9 to U15
FCS Premier
High-Level, More Competitive Teams for Boys and Girls U11 to U15
High School
Spring Teams for U15 to U19 High School Players
Academy
The Academy is a developmental program open to boys and girls from any community U7 and U8 who are interested in improving foundational soccer skills through more rigorous training and small sided games. It is a fun program that provides a positive learning environment for developing soccer skills.
FC Storm
Select Soccer for U9 to U15 Boys and Girls
FC Storm is the select soccer program. Teams are formed through annual tryouts and composed of players of similar skill levels. All teams are coached by US Soccer Licensed Coaches who are often assisted by professional trainers. Fall Only Teams are formed for U15 players in 8th grade (trapped 8th graders).
FCS Premier
FCS Premier is designed for players seeking the next level in skill development. Players are chosen based on skill level, growth potential, commitment, and physical and mental readiness for more rigorous training. FCS Premier teams will play in competitive regional and state leagues.
High School
The U15 to U19 program is built around the needs of high school age players who have completed their freshman year to players finishing their senior year. High School teams provide players an opportunity to continue to develop technical and tactical skills coupled with more rigorous game strategy training.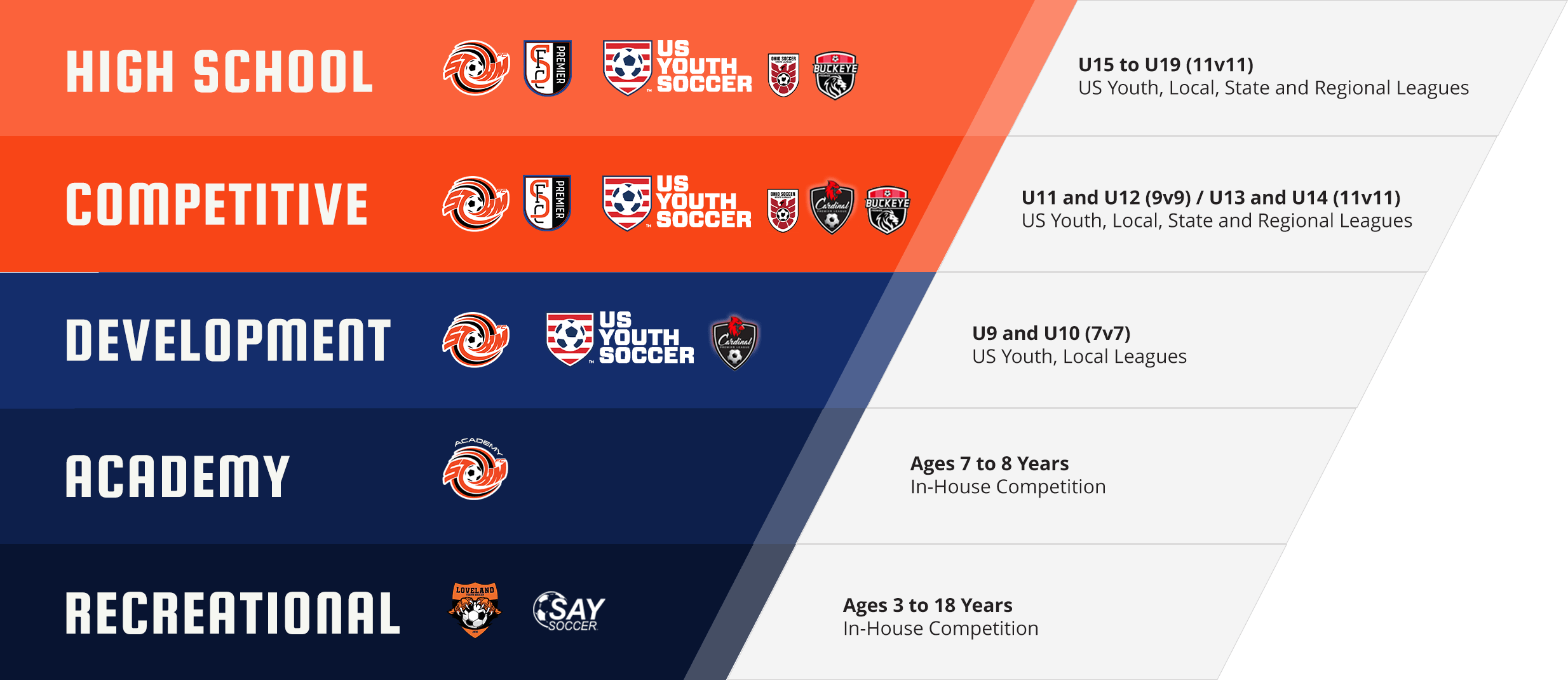 Your tooltip content goes here
Your tooltip content goes here